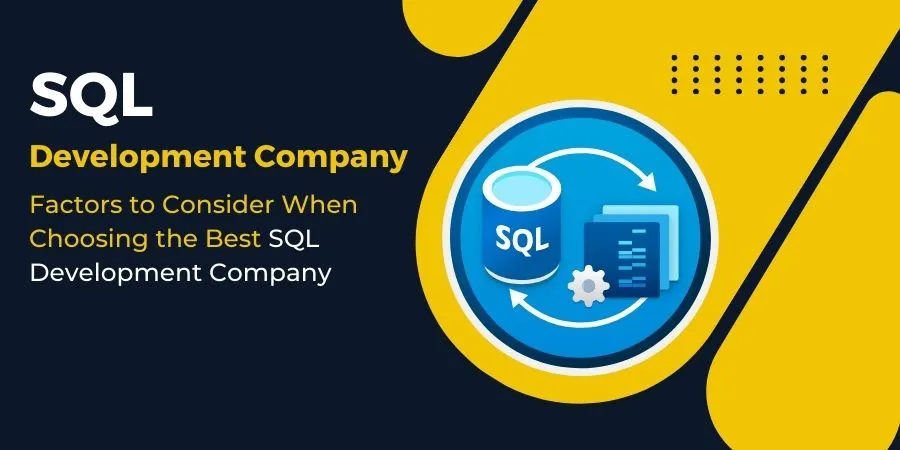 Organisations in the modern data-driven world rely largely on effective database management systems to store, retrieve, and analyse their data. For the deployment, optimisation, and upkeep of SQL databases to be effective, picking the correct SQL development firm is essential.
1. Competence and Experience
The knowledge and experience of the SQL development firm should be one of the main things taken into account. Check out how well they've handled challenging tasks and created SQL databases. Look for a business that is very knowledgeable about SQL programming languages, data modelling, query optimisation, and performance tuning. An organisation with a track record for success and a group of skilled SQL developers may offer insightful analysis and offer top-notch solutions.
2. Full Range of Services Offered
The Microsoft SQL development company service offerings should be taken into consideration. Find a business that offers a whole range of services, such as database design, development, optimisation, migration, performance tuning, and continuous maintenance. Your time and effort will be saved by working with a business that can handle all of your SQL development needs under one roof in a seamless and integrated manner.
3. Domain knowledge and industry experience
Analyse the industry experience and subject-matter expertise of the SQL development firm. In your industry or a comparable one, look for a business that has experience working with clients. They will be more knowledgeable about the particular difficulties, compliance concerns, and data management requirements of your sector. The organisation can offer custom solutions that support your business objectives because of its domain experience.
4. Testimonials and References from Clients
Ask the SQL programming business for client references and endorsements. Make contact with former customers to ask them about their experiences. Ask the organisation about their dependability, project management expertise, timeliness, and the calibre of their deliverables. Client testimonials offer useful information about a business' skills and aid in determining whether it is a good fit for your needs in terms of SQL programming.
5. Personalization and Scalability
Take into account the SQL development company's capacity to offer solutions that are specifically fitted to your requirements. A solution that works for all organisations might not be appropriate because each has different needs for data management. The firm should have the flexibility to comprehend your business goals and create SQL databases that suit your unique reporting needs, data structures, and workflows. As your firm expands, be sure the organisation can meet your future scalability needs.
6. Data security and conformity
When selecting a SQL programming business, data security should be given top priority. Analyse the company's approach to data security, taking into account tools like encryption, access limits, and backup plans. Make that they adhere to industry best practices and any applicable data protection laws, such as GDPR or HIPAA, based on your industry.
7. Cooperation and communication
The success of SQL development projects depends on clear communication and effective teamwork. Examine the company's methods for managing projects, its communication channels, and its openness to your participation. The smoothness of the partnership and the possibility that your expectations will be met is ensured by a company that keeps open lines of communication, delivers frequent updates, and solicits your feedback throughout the project.
8. Assistance and Upkeep
Take a look at the services the SQL development firm provides for post-development support and upkeep. For your SQL databases to run at their peak efficiency, a reputable company should offer continuous assistance, troubleshooting, bug fixes, and routine maintenance. To guarantee prompt resolution of any potential concerns, make sure the conditions of assistance, response times, and escalation procedures are all made clear.
The Advantages of Selecting the Best SQL Development Company
1. Knowledge and Specialisation
The ideal SQL development business brings specialisation and knowledge to the table. The SQL database management systems (DBMS), query optimisation, database design, and data modelling are all areas in which they excel. Because of their experience, your databases will be efficiently planned, installed, and optimised, maximising performance and efficiency.
2. Tuning for Performance and Query Optimisation
Your database queries can be greatly accelerated and optimised by SQL development companies skilled in performance tuning. To achieve quicker response times, they examine query execution plans, spot bottlenecks, and optimise queries. Even with enormous datasets and complicated queries, your applications and systems will operate without a hitch because to their proficiency in performance tuning.
3. Flexibility and scalability
Your databases will be created with scalability and flexibility in mind if you choose the proper SQL development firm. They develop databases that can handle growing data volumes and support future expansion taking into account your business requirements and expansion goals. Your systems can adapt to changing needs with the help of scalable and adaptable databases without sacrificing performance.
4. Long-Term Partnership
A long-term partnership is created by picking the best SQL development business. They develop into your reliable consultants, comprehending your corporate objectives and working with you on future initiatives. As your company develops, a dependable partner that has a thorough understanding of your databases and systems may offer continuing advice and recommend upgrades and creative solutions.
Conclusion
A crucial choice that can have a big impact on the success of your data management initiatives is selecting the best SQL programming firm. You can make a well-informed decision by taking into account aspects like knowledge, extensive service offerings, industry experience, customisation, data security, communication, and support. Before making a choice, spend some time comparing the skills of various SQL development businesses, evaluating their proposals, and so on. You may utilise the power of SQL databases to automate data processes, uncover useful information, and spur corporate expansion with the help of the proper SQL development partner.
Read More