Accelerate your business growth and steer towards success with our cutting-edge CRM development services and solutions.
Microsoft Dynamics 365, as the business solution is now called, covers under its umbrella, components of CRM (Customer Relationship Management), ERP (Enterprise Resource Planning), some other productivity applications, and Artificial Intelligence tools.

7 Applications work coherently through Dynamics 365 to cover all imperative business aspects-
Sales
Customer service
Field service
Marketing
Project service automation
Operations
Financials
Why Microsoft Dynamics 365 CRM
Here are a few advantages of using Microsoft Dynamics CRM Services as your business' CRM platform-
Unified platform and seamless integrations: Microsoft provides a plethora of business services and tools that aid business operations and has all the pieces for the making of an intelligent cloud. You can choose, manage, deploy, and integrate a variety of business-boosting services for the long-term.
Immense productivity: With Dynamics 365 Solutions, you get a bundle of Microsoft's professional productivity tools like Office 365, Yammer, Skype for business, OneNote, etc. along with the transaction-driven apps like CRM and ERP. This collaboration leads to an improved experience of the productivity tools which are otherwise standalone applications.
Flexibility: You can start with whichever aspect of your business you want to focus on first, and not care about the whole of ERP and CRM picture at once. This is an increased flexibility and leads to a smooth application of the complete business suite.
Advanced Analytics and Artificial Intelligence: Make use of the advanced analytics with the help of Microsoft's BI, Cortana Intelligence, Azure Machine Learning, and IoT offerings, all bundled with your Dynamics 365 CRM Services.
Mobilize business processes: Leverage the power of the common data model along with Flow, Power BI, and PowerApps, and work on the go. Power BI's dashboards and reports and the complete interface of Dynamics 365 are available on all devices and browsers.
Fast and Efficient Transformation: The unified systems of Intelligence in Microsoft Dynamics 365 enable you to pick up digital transformation quickly and make use of it in your business to achieve success.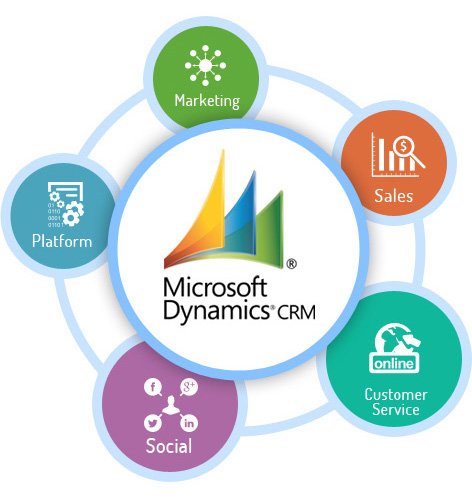 Our Offerings
Put the right information in the hands of your sales, marketing and service workforce, and improve customer relationships and communication.
We at Aegis Softwares provide you the following services-
Dynamics CRM Deployment and Configuration: Cost reductions and increased efficiency and productivity come with proper collaboration and communication. We help you take advantage of the best CRM platform through our deployment and configuration services.
Dynamics 365 Custom Development: Dynamics 365 modules are highly customizable and can be tailored to your business needs, or our expert developers can build custom modules for you from scratch. We provide you with the best customizations that suit your needs best. Our Dynamics 365 development services will give the much-needed boost to your business.
Dynamics 365 Managed Services: Hand us out the responsibility of managing your Dynamics 365 applications for you. We are more than happy to assist you in the smooth functioning of your CRM platform.
Dynamics 365 Migration and Upgradation Services: We upgrade your applications seamlessly to higher and better Dynamics 365 versions so that you stay relevant always. We can also assist you in migrating your applications from any other CRM platform, like Salesforce, to Dynamics 365 CRM platform
Dynamics 365 Integration Services: The powerful platform and SDK of Dynamics 365 can enable you to integrate with other systems to push data to or from them. Provide your sales and marketing persons with a 360-degree view of your business' operations and help them smoothly carry out the crucial business operations for you.
Choose us for...
Reliability
Credibility
Technical Expertise
On-time delivery
Competitive pricing
Round-the-clock support and Maintenance
Best Custom Dynamics 365 development