We are a pioneer in the industry when it comes to Java Development, and have always been ahead of the curve in all the advanced technologies. We have successfully delivered projects to our clients worldwide and solved complex problems that face a variety of industries and sectors.
We have a track record of delivering satisfaction along with the most cutting-edge solutions. We have a wealth of experience in developing diverse range of applications that handle the requirements of today's businesses-
Implementing necessities like Authentication and Authorization frameworks to ensure secure access to applications.
Document and Content Management systems
Implementation of customized workflows
Enforcement of Document protection
Developing migration and import tools
REST and SOAP-based Java Web services for integration
Effective and Comprehensive unit and Integration tests post development
Data analysis, visualization solutions for report generation and analysis
Cloud-based development and deployment
Ensuring high availability of the application and other crucial aspects post the deployment
Social media platforms
Mobility solutions
These are just a few areas where we have built and delivered advanced and competent solutions.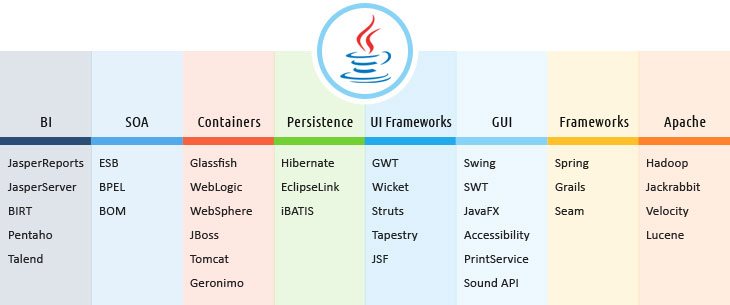 Our Competency
Our team of subject matter experts have the following in their basket of Technical Qualifications-
Leading languages like Java, Scala, Groovy, Clojure, Kotlin
Hands-on experience with important frameworks like Spring MVC, Play Framework, Apache Struts 2, Apache Wicket, Apache Tapestry, Google Web Toolkit, Jersey
Thorough knowledge of the main Javascript frameworks like AngularJS, Angular 2, React & Redux
Technical know-how of Persistence frameworks like Hibernate, MyBatis
Messaging and services buses' knowledge like Apache ActiveMQ, RabbitMQ
Comprehensive skill in application and web servers like Jetty, Tomcat, Oracle WebLogic Server, IBM WebSphere Application Server, Red Hat WildFly, GlassFish
Database storage platforms like Oracle, Microsoft SQL Server, MySQL, PostgreSQL, MongoDB
Leading operating systems like Microsoft Windows, Linux, Mac OS
Infrastructure and Development platforms like Amazon Web Services (AWS), Google Cloud Platform, Docker
With all this technical expertise our developers craft the best applications that are feature-rich and laden with the most immersive user interfaces.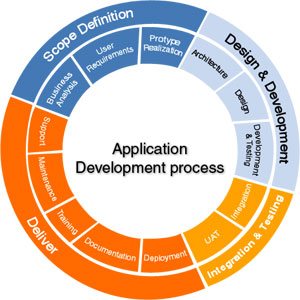 Best Offshore Java Developers, India
Hire Java developers from our pool of the best minds in the IT industry and expose yourself to the following benefits of hiring Offshore Java Developers from us-
Effective and competent pricing
Assured Quality of projects
Clear and concise Communication
Timely Delivery
Round-the-clock maintenance and support
Developed and favourable Infrastructure and environment
Security of your project through strict NDA terms
Post-deployment services to ensure complete satisfaction
Certified professionals with years of experience