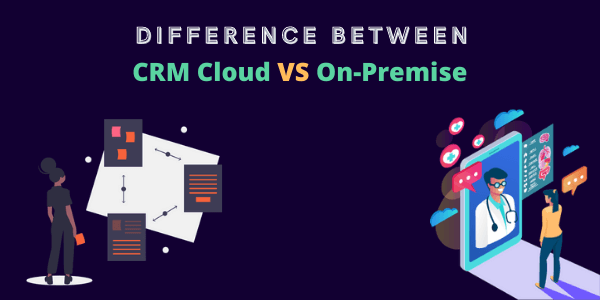 Microsoft Dynamics CRM Cloud Vs On-Premise – What are the Differences
There are many differences between the online and on premise versions of Microsoft's Dynamics CRM or Dynamics 365 Customer Engagement services product as we know them now. Here in this article, we will list down and highlight the key points which will help the organization in making the appropriate choice as per the need.
With most organizations nowadays adopting the cloud-first approach for all their solutions, the same is evident with the product companies like Microsoft, which is now focusing more on the online version of the CRM. The Online version of the product apart from regular enhancements, receives 2 major updates every year termed wave 1 around April and wave 2 around October. Contrary, there are no such regular updates or enhancements published for the on premise version of the product, because of which now the gap between both the version has increased considerably.
Microsoft Dynamics CRM Online or Dynamics 365 services is part of Microsoft's SaaS – software as a service offering. The customer needs to buy licenses / pay monthly subscription fees depending on the users and services they plan to consume. This makes CRM an operating expense, opposite to capital expenditure in the case of On-premise, where you would be owning the product and the infrastructure. If you already have a huge investment and have already existing infrastructure that you want to leverage, CRM On-Premise can be considered. But if there is no IT department, or you are not planning to set it up for your organization, then CRM Online is a better choice, where Microsoft will be responsible for maintaining the application, the supporting hardware, and well manage the backup and upgrade as required.
Now let us look at some of the benefits of CRM Online, the one that comes first into mind is how easy it is to set up the organization in just a few clicks, we can spin up a CRM Instance in a matter of a few minutes/hours. Here you can start with the 30-day trial first of the product and then buying the required subscription and additional instances and services.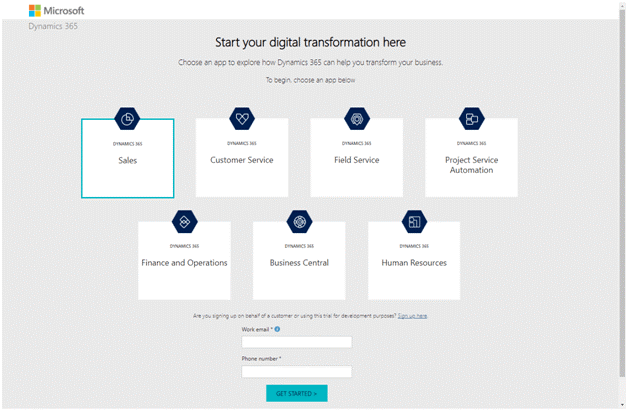 New features are available to try as soon as they are available which the organization can in the sandbox environments before the mandatory update. The important point to understand is that some features will only be available in the online version of the product and is not planned for the on premise version.
E.g. Dynamics 365 Portals, Field Service, Project Service Automation, Human resources, etc. are some applications that are only available online.
Also, CRM Online or Dynamics 365 managed services Apps is part of Microsoft's Power Platform.
https://powerplatform.microsoft.com/en-us/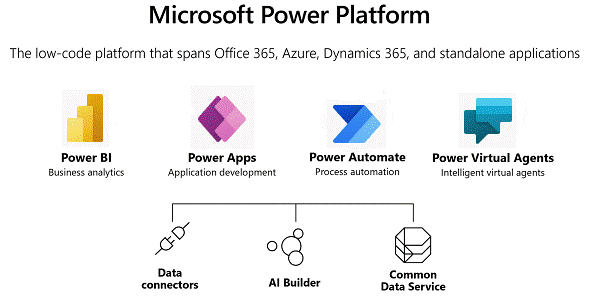 Within Power Platform, you can leverage Power BI, which is a business analytics tool that allows you to easily connect to data sources, create visuals, reports, and dashboards for analyzing and decision making. Power Apps is a low code application development platform to build mobile-friendly applications quickly and easily for marketing technique with dynamics 365 and by business users. Power Automate allows you to create automated workflows between different cloud services / 3rd part applications as well as on premise applications, to automate repetitive tasks and be more productive. Power Virtual agents can be thought of again as a platform that allows the creation of powerful chatbots in no time, without writing any code.
However, there are still few points where On-Premise wins over Online, one is you have access to the SQL Database, so you can build SSRS reports that target the filtered view, instead of Fetch XML for Online, which can be severely restrictive. Also, you have complete control over the environment and can decide when to upgrade to the newer version of the product unlike online where all the updates are mandatory.
Considering all the above points it is easy to see the CRM Online or Cloud is where the organizations are moving to and adopting, and this is where now any organizations starting with Microsoft Dynamics CRM should focus on.
Comparison Between Dynamics 365 CRM On-Premise and Cloud/Online
Cost Of Maintenance
On-premise deployments of Dynamics 365 CRM require firms to invest in hardware infrastructure. These upfront costs can be significant, and ongoing maintenance and upgrades add to the total cost of ownership.
Firms need to allocate resources for security patches, hardware maintenance, software updates, and system backups. Additionally, IT staff or external consultants may be required to manage the infrastructure.
In contrast, cloud/online deployments of Dynamics 365 CRM operate on a subscription model. Firms can benefit from predictable and scalable pricing as well as the convenience of leaving infrastructure management to Microsoft.
Migration
Migrating from an on-premise deployment to a cloud/online deployment, or vice versa, demands careful planning and execution. Firms considering a migration need to assess their existing infrastructure, data, customizations, and integrations to determine the feasibility and impact of the migration.
Migrating from the cloud to on-premise demands setting up the infrastructure, installing the necessary software components, and migrating data back to the on-premise environment. Both types of migrations shall have cost implications and may demand technical expertise or assistance from consultants.
It's mandatory to note that firms should consider the long-term perks and implications of migration.
Deployment
On-premise deployments involve setting up and managing the CRM infrastructure within the firm's premises. It involves installing and configuring servers, databases, and network infrastructure, as well as ensuring high availability and disaster recovery measures.
The deployment process may require IT expertise, planning, and coordination with other systems and departments within the firm. Firms have full control over the deployment, enabling them to tailor the infrastructure to their specific demands and security requirements.
Cloud/online deployments will eliminate the need for on-premise infrastructure setup and management. Firms access the CRM system through the internet, employing web browsers or dedicated applications.
Microsoft manages the underlying infrastructure, including backups, servers, databases, and security measures. It will permit quick deployment and scalability, as firms can easily add or remove users and adjust resources based on their demands.
Cloud deployments also offer the perk of remote access, permitting users to work from anywhere with an internet connection.
Flexibility
On-premise deployments offer more control and customization options as firms have direct access to the CRM infrastructure. They can tailor the system to their specific needs, integrate with other systems using custom code or APIs, and construct complex reports and workflows.
On-premise deployments will permit firms to control when and how updates and upgrades are applied, giving them more flexibility and control over their environment.
Cloud/online deployments have limitations on customization compared to on-premise deployments. Firms have to work within the boundaries of the platform and employ tools to extend and customize its functionality. While these tools offer flexibility and low-code development options, they may not offer the same level of customization as on-premise deployments.
However, cloud/online deployments have perks in terms of accessibility and scalability. They will permit users to access the CRM system from anywhere with an internet connection, facilitating remote work and collaboration.
Cloud deployments also benefit from automatic updates and new features. These updates ensure that firms stay up-to-date with the latest capabilities and enhancements without the need for manual upgrades.
The Functionality of Dynamics 365 CRM On-Premise and Cloud/Online
Integration And Extensibility
On-premise deployments offer greater flexibility in terms of integration with other systems and extensibility. Firms have direct access to the CRM infrastructure, permitting them to leverage custom code, APIs, and third-party integrations to connect Dynamics 365 CRM with other business applications and systems. It will permit seamless data exchange, process automation, and a unified view of customer information across the organization.
Cloud/online deployments also offer integration capabilities but within the boundaries of the platform. Microsoft provides distinct integration options, such as data integration services, pre-built connectors, and Azure services, permitting firms to connect Dynamics 365 CRM with other cloud-based applications and services. Additionally, the Power Platform, including Power Automate and Power Apps, permits low-code/no-code integration and customization, empowering firm users to construct workflows and applications.
Scalability And Performance
On-premise deployments require firms to manage their infrastructure, including hardware resources and capacity planning. Scaling up or down might involve additional hardware procurement, installation, and configuration. Firms need to anticipate future growth and allocate resources accordingly to ensure optimal performance.
Cloud/online deployments offer scalability and performance management as part of the service provided by Microsoft. Firms can effortlessly scale resources up or down based on demand, without the need for hardware procurement or configuration.
Microsoft's infrastructure handles the resource allocation, ensuring that the CRM system performs optimally even during peak usage periods. This scalability is particularly beneficial for firms with fluctuating user demands or those experiencing rapid growth.
Data Security And Compliance
On-premise deployments provide firms with full control over data security and compliance measures. They can implement data encryption, security protocols, and access controls based on their specific requirements.
Firms can also ensure compliance with industry regulations and internal policies by implementing and monitoring security measures themselves.
Cloud/online deployments offer robust data security and compliance measures implemented by Microsoft. Microsoft ensures that data is protected with multiple layers of security, including access controls, threat detection, encryption, and regular security updates.
Microsoft also maintains compliance with industry standards and regulations, such as HIPAA and GDPR. Firms benefit from Microsoft's expertise and ongoing investments in data security and compliance, limiting the burden of maintaining these measures themselves.
Customization And Upgrades
On-premise deployments provide firms with complete control over customization and the timing of upgrades. They can customize the CRM system extensively by employing custom code, plugins, and extensions.
Firms can also choose when to apply updates and upgrades, permitting them to test compatibility and ensure a smooth transition.
Cloud/online deployments have limitations on customization compared to on-premise deployments. However, Microsoft regularly releases updates and new features for the cloud/online version of Dynamics 365 CRM. These updates are automatically applied, ensuring that firms stay up-to-date with the latest capabilities and enhancements. While this eliminates the demand for manual upgrades, firms need to consider the impact of updates on existing customizations and integrations.
Read More